Running a business can be stressful at times, but it doesn't need to be. There are many software packages on the market that can help manage certain aspects, from file sharing and backups, to finance and emails. They also come in a few different forms.
Cloud software (that's software that runs in your web browser like Google Chrome or Microsoft Edge) are growing in popularity and many businesses are moving to the cloud as it takes a lot of the pressure off the business in terms of dealing with issues, user support and even disaster recovery.
There are typically 3 types of software available:
Free - The best kind. These packages are free to use and can be very comprehensive with their features. There's an old saying, "if it sounds too good to be true, it probably is", but with free software, there's usually some sort of income in the background which allows them to waive the fee. This could be in the form of referral fees (Clearscore does this for example with credit cards and loans), to ads (Google is free to use as it's funded by it's advertising platform).

Paid - Often seen as the best value, again because of another old saying - "you get what you pay for". Paid software typically does come with more features such as rapid support, more functionality and more. But just because you pay for it, doesn't make it any better than the free versions.

Freemium - A nice little play on word for "free" and "premium". This type of software has grown rapidly over the last few years and suits many types of users. Basically, you're allowed to use the free version of the software forever, but need to pay a fee to access premium features. A good example of this would be MailChimp. It's free to sign up and get going, but you need to pay to unlock the more advanced features such as connecting your account to your database, or automating your emails.
But where do you actually start? What's best for your business? There is no right or wrong answer here. What's good for one business isn't necessarily good for another. We do however have some recommendations.
QuickFile
If you want to keep on top of your finances, check who owes you money, who you owe money to, and so on, then QuickFile is a great product to make sure you manage your finances effectively.
From creating and sending invoices (even tracking when clients view them), to viewing your profit and loss and monitoring your balance sheet, finance is the backbone to any business. Not monitoring it in a clear and informative way can cause issues in any business.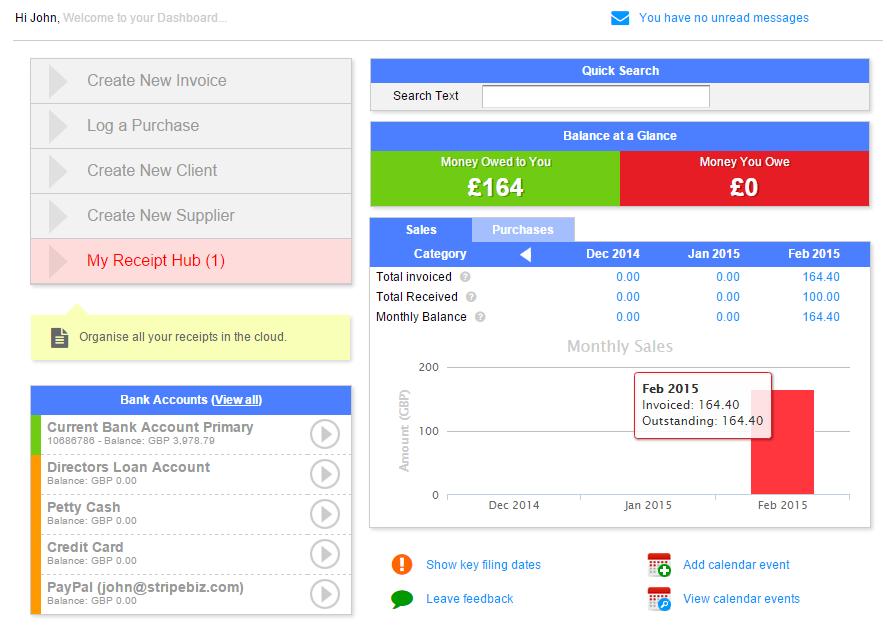 To top it off, you can also keep a digital copy of your receipts online, drastically cutting down on the number of files and folders in your office. Plus, as it's all based in the cloud, there's nothing to download and you can access it anywhere with an internet connection.
Price : Free for small accounts, and just £45 + VAT per year for larger accounts, which includes 1GB of free storage space.
Sign up : Open your free account and explore QuickFile.
G Suite
G Suite is a cloud-based productivity suite that includes Gmail for professional email, Drive for online storage, Hangouts for video meetings, Calendar for scheduling and Docs for editing files. It's easy to use and you can work with others from anywhere, using any device that you choose. While some of these tools are available for free with your own @gmail.com account, using a business domain name is far more professional.
The good news is, with a trusted name like Google behind this, you know it's a stable product with high reliability, which is just what you need in a business environment.
Price : Free trial, and then £3.30 per user, per month (+VAT)
Sign up : Start your free trial± today
Wrike
Managing projects can always be a bit of a headache, especially when you don't know who's done what part and what needs to be done, is it on track and so on. Wrike is simple cloud based project management tool, which allows you to collaborate on projects with your co-workers.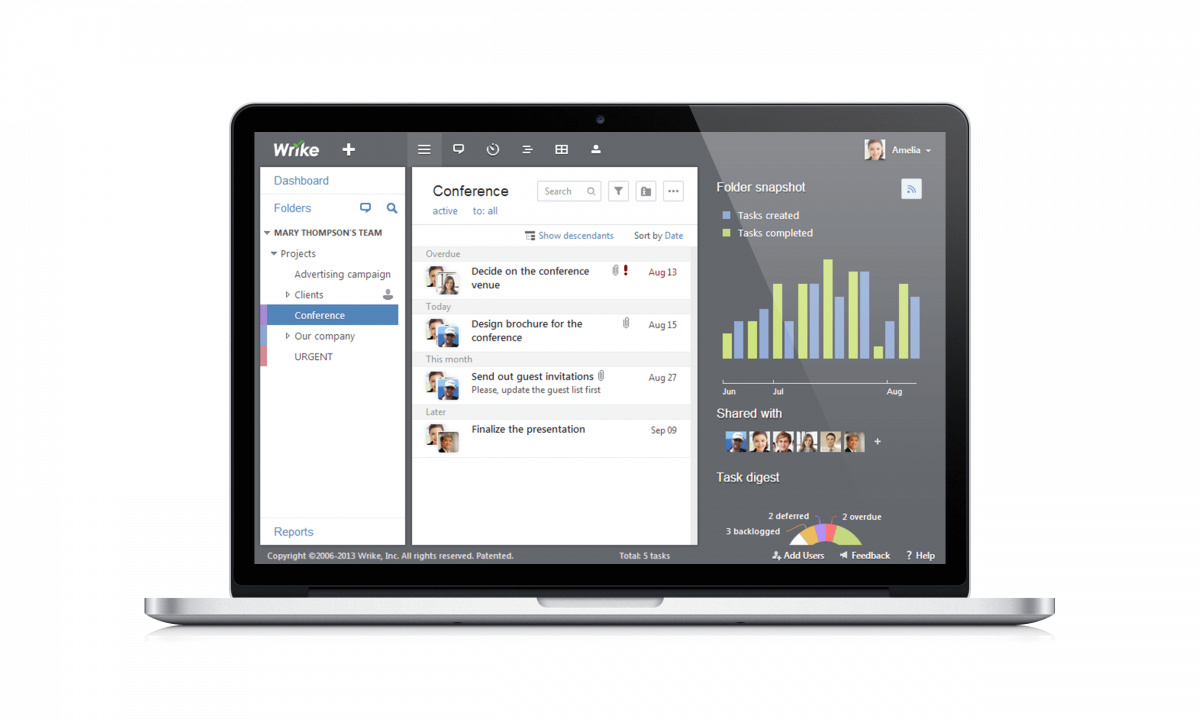 Complete with a free Android app, project management is made simple with their easy to use planning tools and integration with G Suite files. The upgraded versions also come complete with gantt charts to make tracking your workflow even easier.
Price : Starts at free. Check out the full pricing on their pricing page±
Sign up : Open your Wrike± account today
Dropbox
Many people have heard about Dropbox, but not many utilise it. It's always good practice to backup your data anyway, but utilising the tools on offer by Dropbox you can not only backup your data automatically in the cloud, but you can also view file history and share them with ease.
Very useful for teams working over small or large areas, and even starts with a free personal tier, Dropbox offers many benefits for your business. We use Dropbox to not only share files between our own team, but also with clients.
Complete with a well documented API (that's the way to connect it to other tools), it can be easily built into existing or new tools and help streamline your file sharing.
Price : Starts at free, with professional and enterprise additions available for a fee.
Sign up : You can try Dropbox± with some free space, and even gain extra space by referring your friends.
Bespoke - do it your way
If you decide that none of the above packages suit your business' needs, then there's always the option to have your own package made. This can be expensive, but it really does depend on what you're looking to do with the package itself.
Want to know more? Drop us a line, and we'll work with you to find the best solution for your business.
Some products and services may reward Roseblade Media for referring you to them, whether financially or otherwise. This doesn't affect our decision to recommend them, but we thought you should be aware of this. All of these are highlighted with a ± symbol). All prices correct at time of writing.