There's nothing more important than the people behind a business. When you hire Roseblade Media, you hire our whole team, our expertise, and our knowledge.
We want to introduce you to those powering the marketing for our clients. So let's meet Rhys.
Rhys joined the team in 2021 as part of the Kickstart scheme. Hired as a Social Media Assistant, he managed to find his feet and is now producing top-notch content for us and our clients.
Let's learn a bit more about Rhys…
Why did you choose to join Roseblade Media?
I was recommended this job by a friend as I spend a lot of time on social media and know a lot about the algorithm surrounding social media.
What do you enjoy the most about working at Roseblade Media?
The best thing I like doing as a part of my job is coming up with all the creative posts for our clients. Another point is that the team at Roseblade Media are all so kind to work with and very helpful when I need it.
How do you find being part of a small team?
I really like how friendly and inviting it is in the office and I don't feel scared to ask questions at all.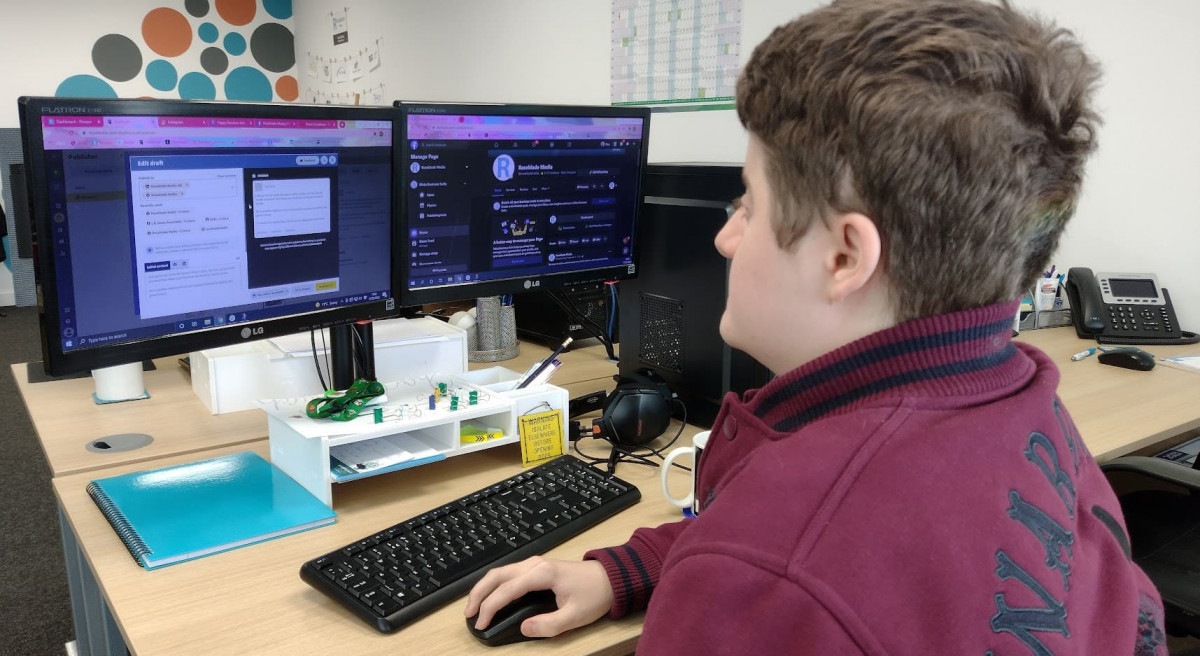 What was the worst film you've ever watched?
It has to be the DreamWorks film Igor I saw years ago, I found it was too dark for the age group it was aimed at. the pacing of the film was all off too it kept jumping from one thing to another.
Are you an early bird or a night owl?
I would consider myself a night owl I feel more awake at night rather than in the day. This is mainly because of my friends across the pond as I'm playing online games with them, with them being 5 hours behind I've adapted to their time zone in a way.
What's the biggest challenge of working with social media?
The biggest challenge I found with being a social media assistant is finding relevant hashtags for some of the posts I produce, some posts I create for the business can be very specific and that can be hard.
What is the best food you have ever eaten?
The best food I have ever eaten has to be the TGI Fridays Jack Daniel's chicken. I had tried this in the restaurant and have fallen in love with it ever since, but then I had found the same chicken in Iceland and have it every week now.
Finally, which Sith would you rather be?
I would be Darth Sidious / Emperor Palpatine because he played both parts on the chessboard during the clone wars and once he rose to power he then destroyed the Galactic Republic with "order 66" and formed his new Galactic Empire which inflicted fear within the galaxy